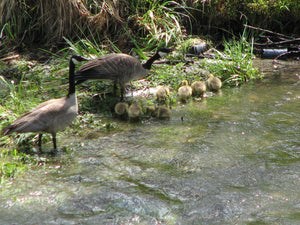 A new painting to celebrate Spring! Calm Before the Storm.
Here's my newest painting that by consensus of my Campers on Facebook & Instagram is now entitled Calm Before the Storm.
Thanks so much for helping me name my painting. It's the perfect choice &  very appropriate for this oil on canvas depicting another beautiful day at Camp Crystal Lake with those ominous moody blues & pink clouds moving in... and reflected in the Nobebosco waters. 
Happy Spring Campers! I continue to paint and channel my emotions onto my canvas and this continues to be wonderful therapy for me during these bizarre & stressful times. I know it's probably very strange to feel this way but I'm actually grateful for this time of Pandemic isolation since last Spring of 2020.
You see, I would never have taken this "pause" on my own to indulge this passion of mine. Something "more important" would always come up. Now I have had a solid year to focus on finding my own style and improving my artistic skills. Growth, renewal, like Spring, I am hopeful. Art is all consuming and so rewarding. It fills my being. I know I am blessed to have such a supportive family and that means my horror family as well. You who give me encouragement and understand my journey.
I have to acknowledge that there is nothing quite as gratifying than catching those quiet moments of inner peace and satisfaction deep within after a good day of painting. Perhaps this is the true joy... finally realizing what might actually be "more important" after all.
---