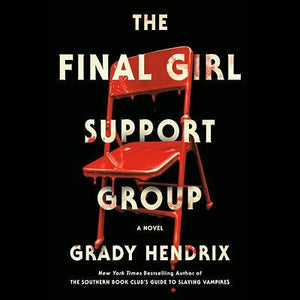 First Surprise of the Summer!
The only thing better than reading The Final Girl Support Group by Grady Hendrix is listening to me, your first Final Girl,  narrating The Final Girl Support Group! I am beyond thrilled!
"This is Grady's enormous gift & love letter to all the Horror Fans who grew up in the 80's & 90's. I have such gratitude in my heart for this amazing author who gave me the opportunity to voice all these incredibly layered ladies!  While recording this thrilling pulsating roller coaster ride I couldn't help wondering how Grady could so vividly capture in his words the real torment, FEAR, anxiety and anguish I felt and experienced in 1980-81 after the original Friday the 13th was released!
But as the ride was slowing down I felt this overwhelming peace deepening in my soul for my own personal Final Girl history. A Full Circle indeed! A Bloody Brilliant Full Circle Roller Coaster Ride with Grady Hendrix! It doesn't get better than this!!!"
HOLD ON TIGHT! You've been warned!!!
Cheers!
Your First Final Girl,
Adrienne
---