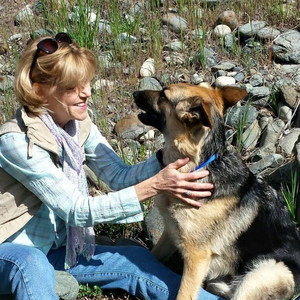 Happy 7th Anniversary to Angie & me!
Angie! Sent by the Angels.
The first song that played on my Jeep radio coming home together from our local SoHumane animal shelter was ANGIE by the Rolling Stones. Angie gave me kisses from the back seat. She had her new name at 9 months old! A new start! 
This beautiful German Shepherd was owner-surrendered because she was too active, needed too much attention & had to be kept in a small kennel most of the time. Doesn't that just break your heart. It amazes & disheartens me that people still adopt animals without doing their due diligence about the breed.
When we got home to the River this was out first photo together. How time flies! She was captivated with nature! Falling leaves would fascinate her, the birds, butterflies.... And a river!!! We made up for all her months of captivity with the heartbeat of surrounding nature! A whole new World for Angie... and me!
---