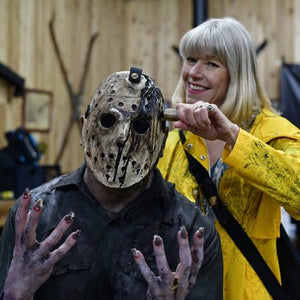 Fantastic CHEERS of 2021
As 2021 winds to an end I reflect on what an incredibly busy  & accomplished year this turned out to be!  
In spite of the ongoing pandemic I was able to be part of some fantastic projects, awesome conventions, Misty Moon International Film Festival, the 40th Anniversary & reunion of Friday the 13th Part 2 & some fab foto ops! unforgettable times with family and even a trip back to Camp Crystal Lake! So wonderful yet at times... so challenging.
But then again, what isn't challenging these days?
As soon as I was double vaccinated in April 2021 I charged out of the gate & jumped at the opportunity to record & narrate my first audiobook THE FINAL GIRL SUPPORT GROUP released on July 13th. It just garnered the BEST-READS Best Horror Book of 2021! The reviews have been terrific.
CHEERS & gratitude to my new friend Grady Hendrix, the bloody brilliant author & writer of the best-selling THE FINAL GIRL SUPPORT GROUP. 
I explained during a Q&A in London following my stage reading of Grady's gripping first chapter of FGSG at the  exquisite PHOENIX ARTS CLUB this past October, that although I've often been asked to write a book ; I've declined. No doubt, it would be detrimental to my mental health.
I spent years in therapy dealing with the aftermath of my 1980's stalking experience; post traumatic stress disorder. Why would I want to open that bag back up again? "Let's not be silly" as we like to say around our household.   
This book was a gift to me as well as all Horror fans. Instead of opening old wounds I was able to luxuriate in Grady's multi-layered story and enjoy the roller coaster of thrills & chills story inspired by the Final Girls and horror films of the 80s. The audiobook is available on Audible & Amazon. Listen to me! ;)
It's 13 hours of Final Girl fabulousity!
August 13th 2021:  CHEERS goes to JASON RISING  a Friday the 13th fan film that debuted  in Portland Oregon on Friday the 13th in August on the big screen to a packed house at the legendary Hollywood Theatre. Such fun & what an amazing Oregon cast & crew! Such passion & perseverance. This movie gives Alice and her Campers what they've wanted for so long & deserved; the truth! We all know Alice, your first Final Girl would never have gone down that quickly .. & from a flesh wound? Never!
Post-Traumatic Stress Dream within a bloody nightmare in Part 2, right?
She went into hiding.
This was the only way Alice knew how to handle her horrific situation. Quietly, invisibly, under the radar... so she could survive until she felt strong enough and mentally tough enough to deal with the "outside World"... until Alice was needed.
CHEERS & Thank you to the extremely talented James Sweet writer/director/producer of the new hit fan film JASON RISING that just broke 550K views on YouTube & going strong! Just what the Friday the 13th fans needed & appreciated by Campers worldwide! Feedback has been fan-tastic! 
BONUS  CHEERS! & Thank You:  HOLLYWOOD BLOOD HORROR FILM FESTIVAL
for the exquisite Golden Hand Award for Best Supporting Actress in JASON RISING. I am honored & so grateful! Imagine 41 years later... Alice lives on!
To my extended family so much love and gratitude for being my support and touchstones. Thanks to C & V Promotions aka Stacy Lee & Chris C.; Dallas and Curtis & Keno, Stuart and Jen, Marilynn, Sandy, Davide, Ted G. & to all the crew at Valley View Winery many thanks for all your support with our incredible Crystal Lake Wines & for satisfying our thirsty Happy Campers with fine taste!
Stay safe! Stay strong!
See you back at Camp!
CHEERS!!!
Adrienne
---