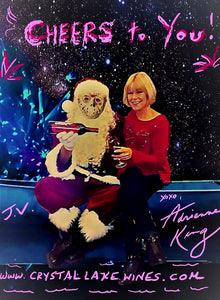 It's beginning to look a lot like Christmas!
HAPPY HOLIDAYS from CRYSTAL LAKE!
The finest Friday the 13th Wines for the Campers on your list!
I get to choose the most delicious, luscious wine varietals Southern Oregon has to offer & share them with you under our Crystal Lake label produced by the oldest, finest family-owned Valley View Winery in the Rogue Valley!
Each label has been painted/designed/signed by yours truly and our newest JASON RISING RED label can be personalized to you or yours as well! Just let me know; include the info with order! I handle every single order myself to make sure you're Happy Camper!
CHEERS to YOU!
Wishing you a wonderful Holiday Season filled with peace and joy!
See you back at Camp!
Adrienne
---