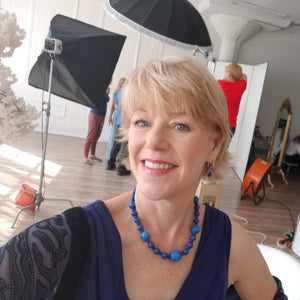 My Original Friday the 13th Script from 1979!
I hope that you are getting into the festive spirit of Halloween & that you are looking forward to November's upcoming Friday the 13th! Even if it is celebrating Pandemic-style! I leave it to you to be creative!
I've been spending lots more time painting, learning how to be hands-on my own website (huge learning curve for me😉 and catching up on reading. 
As I was looking over my site, I thought you might be curious as to the motivation behind my creating the Limited Edition of my own Friday the 13th script and making it available to You. 
As you probably know, I personally correspond with my friends, fans & Campers on Social Media. So, after chatting with a Facebook buddy from the UK (M.)  I came to realize that a Company by the name of Royal Books in Baltimore was selling & misrepresenting a copy of my personal Friday the 13th script (1979) as MY original.  And asking for $4500!! How dare they??? And they refused to take it down.
So…. "This is the only way I know how!" to handle that nonsense!
I created a limited edition of my original FRIDAY 13 script for my serious Campers and Collectors. I sought out a specialty Printer to make your script look and feel just like mine from 1979.  Already signed by Sean Cunningham, I will add my signature for you with personalization to You if you desire.
Then I will number your limited edition script plus you receive a corresponding Certificate of Authenticity signed by me.
I know you'll enjoy reading what did and did NOT make it into the movie!
See you back at Camp!
Adrienne King
Your 1st Final Girl
PS: What better way to celebrate than with 13% OFF my script! Applied at checkout. (Order Here)
---